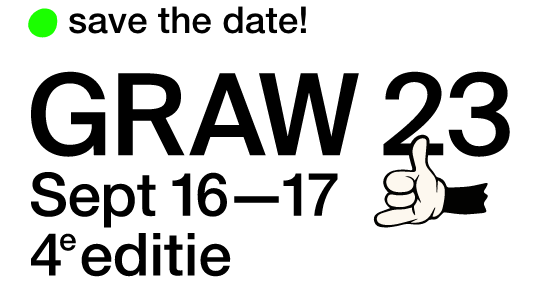 Groot Rotterdams Atelier Weekend 2023
16-17 September 2023 ~ 11h00-17h00 ~ free entrance
Opening: 15 September 17h00 – 21h00 ~ free entrance
Visit the great diversity of artistic practices in the Ackersdijkstraat 20 studio complex during this event. The artists will present their work in their studio's. You are welcome for a chat and a drink and of course view and buy work from the artists.
Ateliers Ackersdijkstraat
Ackersdijkstraat 20, 3037 VH, Rotterdam
Email: ackersdijkstraat20@gmail.com
Show on map
More than 890 artists spread over more than 100 studio complexes in Rotterdam  welcome the public to come and take a look in their world. The fourth edition of the Groot Atelier Weekend Rotterdam (GRAW) will start again. A unique opportunity to take a look behind the scenes of hundreds of artists.
Artist's with studio's in the building:
Anne van Toor
Ben Zegers
Boris Pas
Geert Mul
Ik ben Chantal van Heeswijk
Iratxe Jaio + Klaas van Gorkum
Jasmijn Endenburg
Jolanda Linssen
Judith Jansen
Karin Rianne Westendorp
Katrijn Verstegen
Lucie Havel
Marion Daniëls
Michael Bom
Mirjam Somers
Rabin Huissen
Raph de Haas
Robert Stroomberg
Sasja Hagens
Sigmund de Jong
Studio Arletti
Yu Kuramoto
Guest Artist:
Antoinet Deurloo